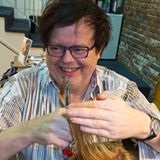 Meet Urs (yes, that is his complete first name) Eichenberger the founder and owner of Strands Hair & Skin Treatment Centre Inc., the pivotal dreamer around whom the Strands philosophy evolved. Stylish, healthy, beautiful hair to suit he's clients needs, wants and lifestyle.
Urs began his career in Europe . After successfully finishing his 3-year apprenticeship, he honed his skills by working in ritzy European spas and ski resorts in Switzerland . He got interested in the workings of advanced hair coloring by working with two major international color manufacturers. To this day young stylists and students who work at Strands are awed by his intuitive and comprehensive grasp of hair color.
Urs regularly attends international hair shows and seminars all over the world to keep up with new techniques, tools and products. Computer imaging, ammonia free hair color, bio ionic tools and products, light treatment concepts for the skin and the latest; thermo scissors, are just some of the things that he brought to Strands.
Attending advanced seminars on aromatherapy over the last 12 years and a personal invitation to a pharmaceutical and cosmetic laboratory in Toulouse France keep him interested and educated on natural and scientific developments in the hair and skin treatment field.
Born in Switzerland, Urs moved to Canada for a year, liked the lifestyle here and opened his salon in 1984. Never one to stand still, he challenges himself and everybody around him to explore, innovate and excel.
Urs Eichenberger Master Stylist/Owner
Get advice and tips from the expert Stylist
Urs e-mail urs@strandsvancouver.com or call 604-681-3341 toll free 1-866-738-0710