Guess How Many Rollers in CurlyQ2u and Win a $50 Hair Treatment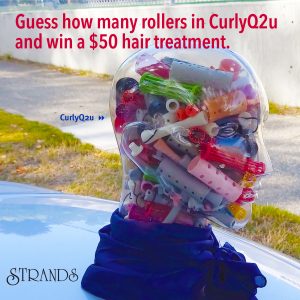 Guess how many rollers are in CurlyQ2u's head, and you could win a $50 hair treatment!
If nobody guesses the correct number of rollers, the closest guess will win.   Draw will close on October 31, 2019 at 8pm PDT.  The prize is $50 toward your Hair Treatment, in salon at Strands Hair and Skin Treatment Centre only.   By participating in this contest, you may occasionally receive Strands promotional material, information on new products, contests and special promotions.
Ended